Shipping and Delivery & in stock items

In-stock items will normally ship within 24 hours of our receiving the order. Orders that come in on weekends or Holidays are shipped the next business day. In the event that an item is unavailable at the time of your order or if an item becomes unavailable at any time after your order is received, we will call to inform you of or email you the status and expected ship date. Some items ordered at the same time may be shipped separately.

Faster Shipping

You can select faster shipping services while in the checkout process such as UPS 3 Day Select, UPS 2nd Day Air and UPS Next Day Air.

Delivery:

Inside the Continental United States orders will ship UPS or USPS, please include a street address for shipping. UPS does not deliver to a post office boxes.

Shipping questions can be answered by sending us an email at:

Outside the Continental United States, smaller size orders going to Alaska, Hawaii or Canada are shipped via U.S Priority Mail. We are sorry, currently we can ship only to the above mentioned destinations.

The following transit time shown in the key for this map is not a guarantee, but a guide
only for the estimated shipment transit time in business days (Mon - Fri.) from our warehouse
to you when your order is shipped via UPS Ground. This guide is to help you determine if you
may need faster service so that your package will arrive at it's destination on the day desired.

If you need service faster than UPS Ground can get it there, select the upgraded service on our website.

The estimates shown on the map are for UPS Ground shipments excluding Saturday,
Sunday or any holiday so please consider these days into your calculation.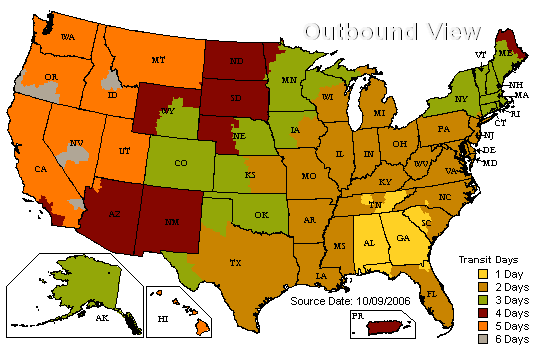 We at Black Dolls Collector from time to time ship packages to our customers via USPS (United States Postal Service) instead of using UPS. We use US Priority Mail in those instances which is usually for shipments to P.O. Box addresses or A.P.O. addresses.
UPS Ground
- this service is the most commonly used and is what the transit time estimates on the map above are based on.
UPS 3 Day Select® - UPS 3 Day Select guarantees delivery within three business days to and from every address in the 48 contiguous states.
UPS 2nd Day Air® - UPS 2nd Day Air provides guaranteed on-time delivery to every address throughout the United States (excluding intra-Alaska shipments) and Puerto Rico by the end of the second business day.
UPS Next Day Air® - UPS Next Day Air features fast, reliable delivery to every address in all 50 states and Puerto Rico. Delivery is guaranteed by 10:30 a.m., noon, or end of day the next business day depending on destination.